Angels are spiritual beings, existing free of restriction to time or space. They are beings of light energy full of peace, harmony and joy. They are the most powerful and most evolved beings closest to the Higher Power or as many refer to, GOD.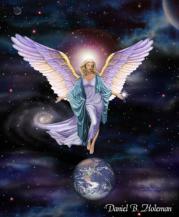 Their level of higher frequency allows them to have the most unconditional love possible! Angels are all around everyday and in every way, protecting and embracing us all. Working with your needs and expectations, never going far. When you need them, they are only a thought away.
Angelic beings are the messengers in charge of keeping one connected to the spiritual realm. They help us to understand that God is always here, especially in times of difficulty. Never abandoning you. They are here to help and support our spiritual path. Warming us with feelings of love and peace, directing us back to who we truly are;  a whole and perfect loving child of God!
Angels also help in opening our hearts and minds of the knowledge that God is here to love us. To take care of us. Allowing us the experience of perfect joy. They are God's gift to us, waiting patiently behind the veil as we open our minds to their existence and their love.
Artwork courtesy of and copyright by Daniel B. Holeman, who invites you to visit his Visionary Art Gallery web site – Awaken Visions